The fallacious stigma around marijuana is slowly turning. Through education and the efforts of many people across the world people of all ages are starting to realize that marijuana use can be beneficial. Marijuana is a medicine, it's time to stop arresting medical marijuana patients.
Curtis Kyle, a 52-year-old from Taylor, Michigan lives with cerebral palsy. With the passing of his father in 2011, Curtis decided that it was time to do something special to commemorate him. In 1979, his father walked the same route from Michigan to Washington in support of marijuana legalization. Since Curtis couldn't walk the distance, he decided to "roll" there in his wheelchair. This is how "Rolling to the White House" came to be.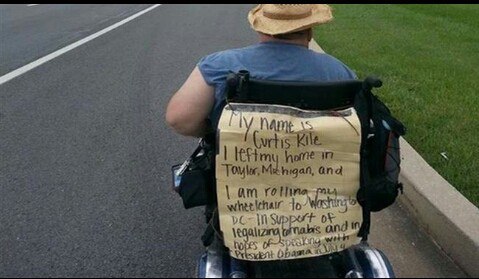 Kyle rolled 520 miles over three weeks, leaving Michigan on June 14 and arriving at the White House late on July 3rd in an attempt to meet with President Barack Obama. It's an attempt to raise awareness for the legalization of cannabis, which many cerebral palsy sufferers use as treatment.
Taylor believes the marijuana his father smoked during the final years of his life made his death a bit more tolerable. And the marijuana he smokes now helps him to live a fuller life. "If I don't use it on a daily basis, my muscles spasm," Curtis said.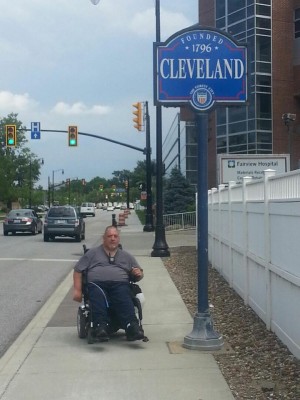 A hat belonging to his late father sat on Taylor's head throughout the journey. As he neared the White House at the end of his trek, the weight of his travels lifted as the miles of bumpy sidewalks and searing summer heat fated.
"Yes, father, we made it," he said. "I really can't believe we did this. I know I had a guardian angel up there watching over me.
Interview with Curtis Kyle on Planet Green Trees
> Michigan Man Rolls to Washington | WJLA