To celebrate the awesome year that cannabis reform has had in 2013, let's have some stoner drinks!
Raise a glass with one of these cannabis infused drinks and feel good about the future of Mary Jane.
Almond Joy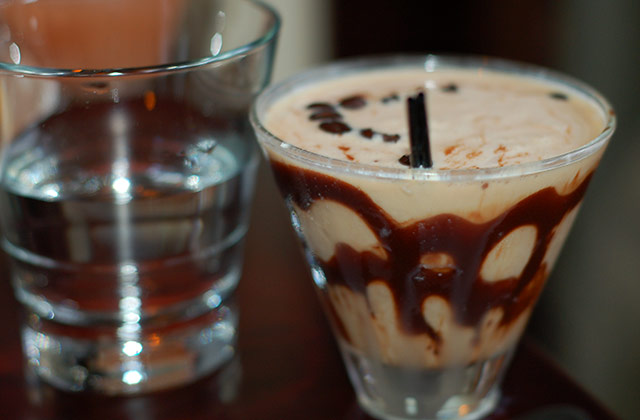 This gorgeous dessert cocktail can be made with or without booze. A swirl of cannabis-infused coconut cream, chocolate syrup and almond milk can be doctored with Kahlua or Amaretto, but your taste buds and mind will be blown, with or without liquor.

2 grams cannabis shake or bud, finely ground
7 fluid ounces coconut cream
1/4 cup chocolate syrup
1 pint almond milk
1/2 fluid ounce Kahlua or Amaretto (optional)
1. Infuse the coconut cream with cannabis. You'll need to make what the French call a "bouquet garni," or an herb bundle, but in this case "bouquet ganja," would be the proper term.
Grind your herb and wrap it in cheesecloth, tying the bundle closed so you have a "tea bag." Make sure the string is long enough to tie to the pan's handle so you can retrieve the "bouquet ganja" later.
2. Cook it slowly with the coconut cream in a small saucepan over a very low flame for at least 2 hours, and up to 4 hours if you have the time. After the infusion is complete, remove the "bouquet ganja" and discard.
3. Combine the coconut cream with the chocolate syrup and almond milk. Shake in a shaker with ice. Strain and garnish with whipped cream, mint, and strawberries, if desired.
Jamaican Me Crazy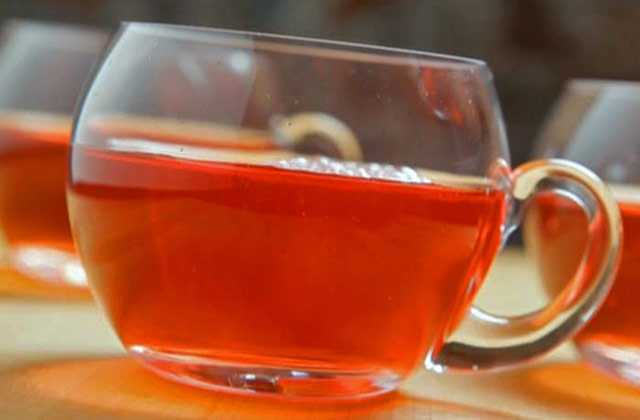 Pot-infused rum, Amaretto, and coconut water make this drink a cannasseur classic. No matter how crazy your day was, this sweet, boozy treat will spirit you away to an island where it's always 4:20.

Cannabis Tincture (Vegetable Glycerin Based) or Hash Oil
2 fluid ounces Dark Rum
1 fluid ounce Amaretto
3 fluid ounces Coconut Water
Mix your desired amount of cannabis (oil or from tincture) with the rum. Then combine the cannabis infused rum, Amaretto, and coconut water in a shaker and strain over ice in a highball glass.

Hash Hot Chocolate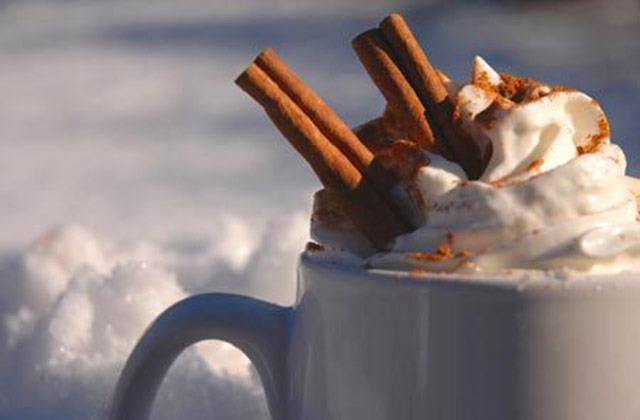 Made with half-and-half, kief, melted chocolate chips, cinnamon and sugar and topped with gooey marshmallows, this choco-cannabis concoction will take away your blues and soothe your soul. Drinking it is just like getting tucked into bed by your favorite girl, Mary Jane.
3 1/2 cups milk
3 1/2 cups water
2 tbsp cannabis flowers, finely ground
1/3 cup unsweetened cocoa powder
3/4 cup white sugar
1 pinch salt
1/3 cup boiling water
3/4 teaspoon vanilla extract
1 tbsp cannabis-infused chocolate, grated (such as Bhang Chocolate or 420 Venice Cookie Co)
1/2 cup half-and-half cream
1. Infuse your milk with the ground cannabis flowers. Start by mixing milk and water in a large stainless steel or glass bowl.
2. Make a double boiler by placing your bowl over a pot that has several inches of water in the bottom. Heat the pot on high, until the water begins to boil. You do not want the milk in the top bowl to boil however, so watch it carefully and turn down the heat if necessary.
3. Sprinkle two heaping tablespoons of finely ground cannabis flowers into the top bowl along with the milk and water mixture. Let cook for 2 hours, stirring occasionally.
4. Strain mixture through the cheesecloth, reserving the cannabis-infused milk.
5. Combine the cocoa, sugar and pinch of salt in a saucepan. Blend in the boiling water. Bring this mixture to an easy boil while you stir. Simmer and stir for about 2 minutes. Watch that it doesn't scorch.
6. Stir in 3 1/2 cups of cannabis-infused milk and heat until very hot, but do not boil! Remove from heat and add vanilla and the grated cannabis-infused chocolate, stirring until it has melted.
7. Divide between 4 mugs. Add the cream to the mugs of cocoa to cool it to drinking temperature. You can refrigerate any leftovers for several days.

Lawnmower
Named Lawnmower because it's cutting grass with vodka. This refreshing ganja drink blends pot, carrots, apples, ginger and lemon with cannabis-infused vodka. First invented by a group of vegan growers in Mendocino County, this drink balances health with hedonism.
Cannabis Tincture (Vegetable Glycerin Based) or Hash Oil
10 to 15 Cannabis Leaves
4 large carrots, cut into chunks
2 apples, cored but not peeled and cut into chunks to fit the juicer
2 inch long piece of ginger
1 large lemon, peel removed and reserved
4 fluid ounces Vodka
1. Use a vegetable juicer to process your cannabis leaves, carrots, apples, ginger, and lemon. Fold several leaves into a clump and push it down the feeder tube, followed by a piece of carrot or apple. Alternating your ingredients helps keep the cannabis fiber from clogging the juice.
2. Mix your desired amount of cannabis (oil or from tincture) with the vodka.
3. Fill a shaker with ice. Combine 1 cup juice and 2 fluid ounces of the cannabis infused vodka, shake with the ice, then strain into a shot glass.
4. Make lemon zest by grating the peel of the lemon and top the drink with it.

Bonghitters' Mota Mojito
The legendary High Times Bonghitters softball team has a fearsome reputation for blasting their opponents out of the ballpark with their skills and their toking abilities. Their signature libation, the Mota Mojito, adds to their mojo. The combination of pot-infused rum, sugar, lime and mint will swing away, and fly you over the outfield fence.

Cannabis Tincture (Vegetable Glycerin Based) or Hash Oil
2 fluid ounces Rum
4 tablespoons sugar
Juice of 4 key limes
Half liter soda water
8 sprigs of mint
Crushed Ice
1. Mix your desired amount of cannabis (oil or from tincture) with the rum.
2. In a blender, combine the cannabis infused rum, sugar, and lime juice and blend on low for about 30 seconds. Add soda water and stir to combine.
3. Prepare four 13 oz glasses by muddling 2 sprigs of mint in the bottom of each glass, crushing and mashing it thoroughly. Fill each glass half way with crushed ice.
4. Pour the contents of the blender over the ice to fill each glass.

> 5 Delicious Pot Libations | High Times