Cooking doesn't get much easier! But don't let the simple two-ingredient recipes fool you, these are some delicious munchies.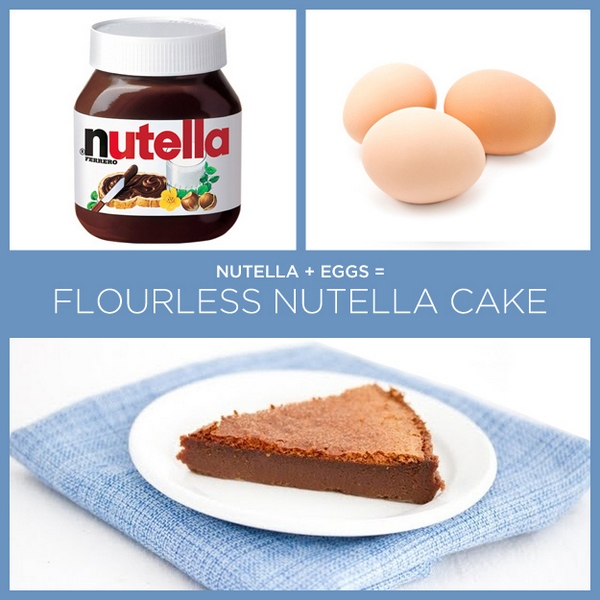 Ingredients:
4 large or extra large eggs
8 1/2 ounces Nutella (weigh this out on a scale)
Directions:
Grease a 6 or 7 inch round springform pan. Then line with parchment paper on sides and on bottom. (One of the cakes I made, I simply sprayed pan, but it still sticks, so it is best to line with parchment paper. By spraying with oil first, the parchment paper stick on better.) Preheat oven to 350F. Beat eggs on highest speed with stand mixer until about triple in volume, about 6 minutes. The egg consistency is the key to making this recipe work, so don't try to save time on this step. Eggs must be beaten until triple in volume as that is what creates the cake.
Measure out Nutella into a glass bowl. Microwave Nutella for about 20 seconds to make it softer. Add in 1/3 of the egg mixture. Gently stir with a spatula in the same clockwise direction until all of the egg is mixed in, and no streaks remain. Then add another 1/3 of egg mixture and fold again until no egg streaks remain. Pour in remaining third and make sure to scrape the foam that sticks to the mixing bowl into the batter and stir until no streaks remain. Make sure to do this in 3 batches because otherwise the whipped eggs may lose too much of the air that has been whipped into them if you try to do it all at once.
Pour batter into spring foam pan. Bake for 20-25 minutes until knife inserted comes out clean. Let cake cool completely before removing from pan and cutting and serving.
Recipe via Kirbie Cravings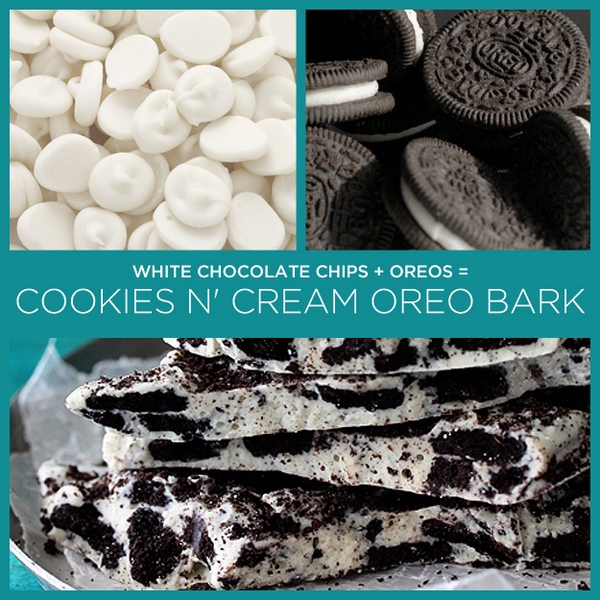 Ingredients:
10oz. Ghirardelli white chocolate chips
15 regular size Oreos, plus 3 more for topping
Directions:
Line an 8×8 pan with enough parchment or wax paper for a 1 inch overhang on each side.
Place chocolate in a double boiler over low heat and stir continuously, until chocolate is completely melted.  Transfer chocolate to a heat proof bowl and cool for 5 minutes. Add chopped Oreos and stir to combine. Pour mixture into pan. Use a spatula to smooth out top.
Finely chop remaining Oreos and sprinkle on top. Chill for about 10 minutes until chocolate becomes solid.
Lift whole bark out of the pan by holding onto parchment or wax overhang. Split bark into pieces with a fork.
Recipe via Bakers Royale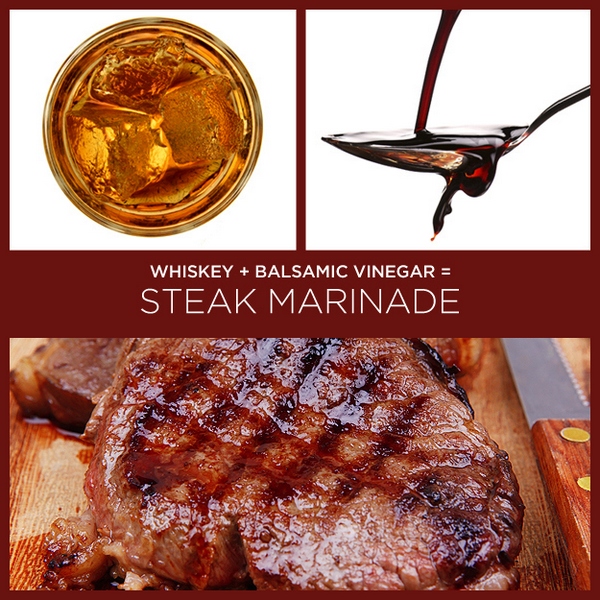 Ingredients:
1 1/2 pounds sirloin
Large pieces of fat removed
1/2 cup whiskey
1/2 cup balsamic vinegar
Fine Sea Salt and Freshly Cracked Pepper (to taste)
Directions:
In a large airtight plastic bag combine trimmed sirloin, whiskey and balsamic vinegar. Massage into the fibers of the meat. Place in the refrigerator for 1-2 hour(s).
Removesirloin from the refrigerator and allow to come to room temperature for 30 minutes. Meanwhile, heat the grill.
Remove sirloin from the marinade and place onto a plate. Season the top with fine sea salt and freshly ground pepper to taste.
Preheat the grill to a high heat. Place steak on the hot grill. If you are using a gas grill, cover the grill. Grill for 4-6 minutes on each side for medium rare. If you do not have a grill, you can follow the same instructions using the broiler of your oven on the second to top rack. Make sure to keep the door cracked and properly ventilate to not set off your smoke detectors.
Recipe via Savory Experiments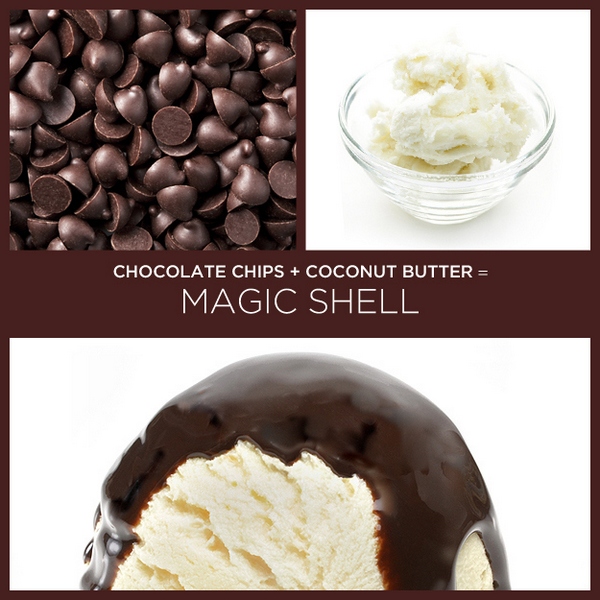 Ingredients:
1 cup chocolate chips
2 tbsp. coconut oil (can substitute butter or shortening)
Directions:
In a small-medium, microwave safe, bowl combine chocolate chip and coconut oil.
Microwave on high for 30 seconds. Stir. Microwave in 15 second increments, removing and stirring between each, until smooth. Let cool to room temperature.
Serve (it should become solid when it is put on something cold, if it is taking a bit to harden up, pop the ice cream or popsicle, etc. in the refrigerator for a minute.) or cover and store at room temperature for up to a month (if it solidifies-because the temperature in your home may be too cool-just microwave and stir again until melted, and make sure to let come back to room temperature before using.)
Recipe via Cooking Actress
Ingredients:
2 cups granulated sugar
1/8 teaspoon kosher salt
2 sheets puff pastry, defrosted
Directions:
Preheat the oven to 450 degrees F.
Combine the sugar and kosher salt. Pour 1 cup of the sugar/salt mixture on a flat surface such as wooden board or marble.
Unfold each sheet of puff pastry onto the sugar and pour 1/2 cup of the sugar mixture on top, spreading it evenly on the puff pastry. This is not about sprinkling, it's about an even covering of sugar.
With a rolling pin, roll the dough until it's 13 by 13-inches square and the sugar is pressed into the puff pastry on top and bottom. Fold the sides of the square towards the center so they go halfway to the middle. Fold them again so the two folds meet exactly at the middle of the dough. Then fold 1 half over the other half as though closing a book. You will have 6 layers.
Slice the dough into 3/8-inch slices and place the slices, cut side up, on baking sheets lined with parchment paper. Place the second sheet of pastry on the sugared board, sprinkle with the remaining 1/2 cup of sugar mixture, and continue as above. (There will be quite a bit of sugar left over on the board.) Slice and arrange on baking sheets lined with parchment.
Bake the cookies for 6 minutes until caramelized and brown on the bottom, then turn with a spatula and bake another 3 to 5 minutes, until caramelized on the other side. Transfer to a baking rack to cool.
Recipe via Food Network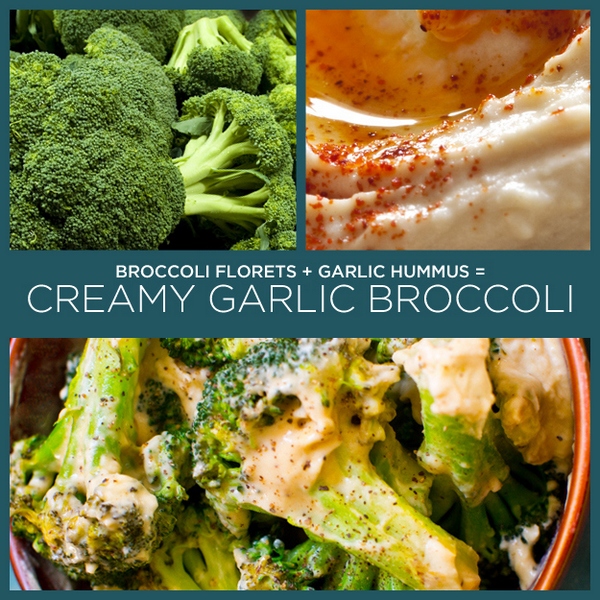 Ingredients:
3 1/2 cups broccoli florets
1/2 cup creamy garlic hummus
black pepper + lemon juice to taste
Directions:
Steam, boil, roast or grill your broccoli florets.
Toss the warm florets in the hummus — coating it as you would pasta with pasta sauce.
Serve warm or place in the fridge to chill. This broccoli is delicious served both warm and chilled.
Add lemon juice and black pepper over top to serve.
Customize it! If you are not a garlic fan, you can use any variety of hummus, including lemon, chili, roasted eggplant, olive, parsley and more.
Recipe via Babble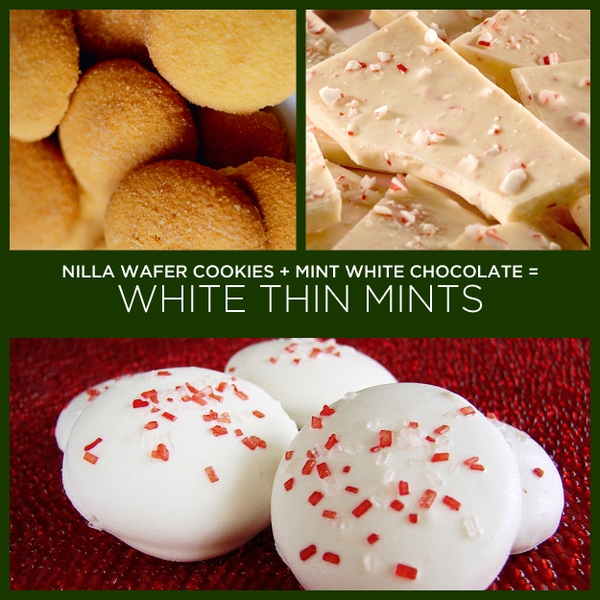 Ingredients:
1 Box Vanilla Wafer Cookies (such as Nilla Wafers)
2 Cups mint white chocolate candy melts
Sprinkles (optional)
Directions:
Melt chocolate in microwave (Use about 1 Tablespoon shortening or vegetable oil to thin it out if it is too think for dipping.)
Dip cookies into mint white chocolate. Garnish with sprinkles if desired. Let cool.
Recipe via In Katrina's Kitchen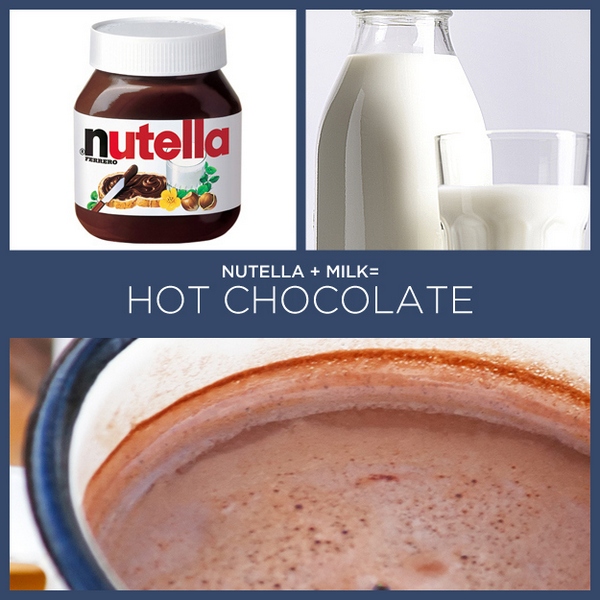 Ingredients:
1 cup milk (per preference)
1 1/2-2 tablespoons Nutella
Directions:
Heat milk to steaming. You can do this in a microwave or in a pan on top of the stove. When steaming hot, pour into a mug. Stir in Nutella until it dissolves.
Enjoy!
Recipe via Shockingly Delicious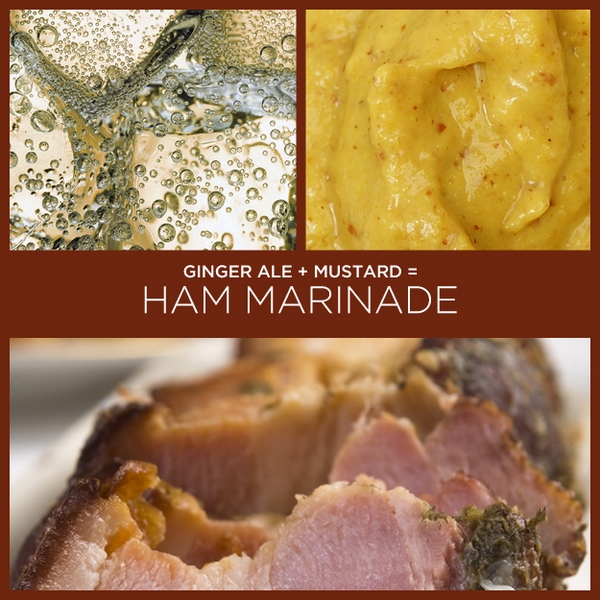 Ingredients:
2-parts Ginger Ale
1-part Mustard
(Example: 2/3 cup ginger ale for 1/3 cup mustard)
Directions:
Combine your 2-ingredient marinade
Prepare your ham by making diamond slices in the top (make cuts about 1/2 inch into the ham both length-wise and width-wise.  This will create "diamond" shapes into the ham and allow the marinade to seep into the ham so that they ham can cook and soak up the flavors!
Pour your marinade over the ham (it will be thicker) and let it seep into the cuts and cook to package directions.
Throughout the cooking process, use a baster, suck up the juices that leaked out and baste it over the top again. Use a spoon for this if you don't have a baster.
Serve and enjoy the sweet/tart and deliciously unique flavors of your Ham.
Recipe via The Thrifty Couple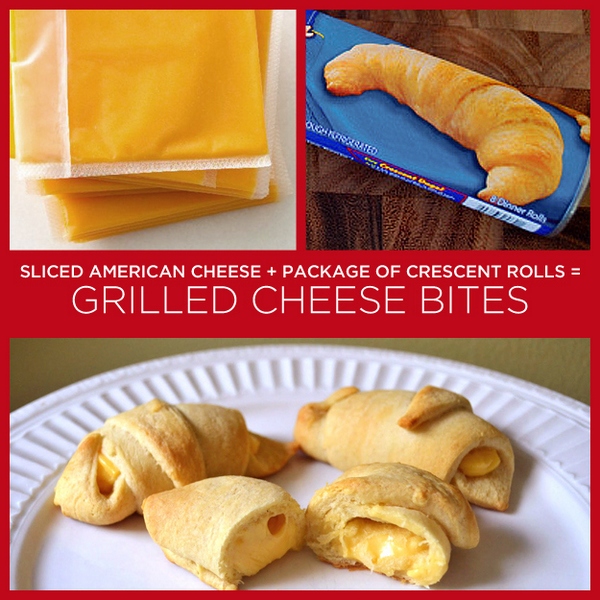 Ingredients:
1 Package of Crescent Rolls
Package of Kraft Singles
Directions:
Unwrap your cheese slices and pop open your can of crescent rolls.
You'll use a half slice of cheese in each roll.  We folded them into halves, then quarters, and then in half again before putting it on the crescent roll.
Roll up your dough with the cheese inside.
Put the rolls on a baking sheet and brush with melted butter. You can also sprinkle with a little extra parmesan cheese, garlic salt, etc.
When they're all buttered up and ready to go, put them in the oven and bake as directed for the crescent rolls.
Recipe via Come Together Kids
> Super Simple Recipes | Crazy Food