Medical Marijuana has been helping people for thousands of years and it may be able to help you too! Mona Lisa is a licensed medical marijuana patient who has been providing excellent tutorials on how to cook with cannabis.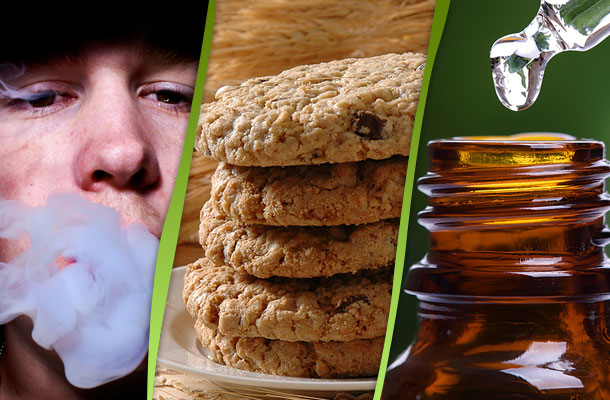 Introduction to Marijuana Edibles
The Edible Elements of Cannabis Extraction

If you want to learn how to make the very best medicinal edibles, you ought to know about the basic properties of the cannabis plant. Each element contains something unique which allows you to easily customize your (edible) marijuana extractions to suit your specific medical requirements.
What is Sweet Leaf?
Harvesting medical marijuana is about more than just buds. Everyone always asks me: What should I use to make the very best medicinal extractions? Well, the answer is simple, friends… Use your sweet leaf!
Prepping Marijuana Edibles with Butter and Oil
How to Make Cannabutter, Medical Marijuana Recipe Part 1
If you (or someone you know) live in a constant state of pain due to serious illness or injury, then ingesting marijuana in the form of "cannabutter" may very well be the ONLY ticket to a better quality of life! Not only is marijuana completely non-toxic and non-lethal, it's also an extremely effective pain reliever when used in the right dosage and manner.
How to Make Cannabutter, Medical Marijuana Recipe Part 2
Now that you know all about making the finest cannabutter (marijuana infused butter), I also wanted to make sure and show everyone how to properly harvest their finished product. If you (or someone you know) is seriously ill or severely injured and currently taking prescription pain medication to ease their suffering…consider that there is a much healthier alternative available.
How to Make Canna Oil, Medical Marijuana Infused Cooking Oil
This healthful recipe for cannabis cooking oil has been around for ages, and I'd like to make sure good information isn't forgotten.
Marijuana Edible Food, Drink, and Medicine Recipes
Cooking with Marijuana using Cannabutter and Canna oil

Let me show you the basics of cooking with cannabis because marijuana infused foods make perfect medicine for those suffering from chronic pain and anxiety! You only need to know a few simple basics, and soon you'll be feeling your absolute best!
Basics of Making Marijuana Edible Desserts

Making potent and delicious medical marijuana edibles is surprisingly easy (and fun) to do! Let me show you a few basics so you can convert all your favorite dessert recipes into powerfully effective medicine which become an absolute delight to administer when needed.
How to Make Medical Marijuana Margaritas

If you're feeling the need for a drink, try this easy medical cannabis drink recipe.
How to Make Marijuana Medicine, Tonic & Tincture

This Green Monster recipe shows you how to make the old-fashioned" "Healthful Tonic and Tincture" medical marijuana that was originally sold before prohibition. It's ability to provide relief from deep muscular pain and uncontrollable spasms makes it an amazing medicinal application.
Start cookin' and let us know in the comments how these recipes have helped you improve your life. If you're already a stoner chef, please share your recipes!