Hip hop is back! A group from Flatbush, New York called The Underachievers is breathing new life into hip hop. The Underachievers are a dynamic duo created by Issa Dash and AK. Through psychedelics they were able to become one and rap with a message.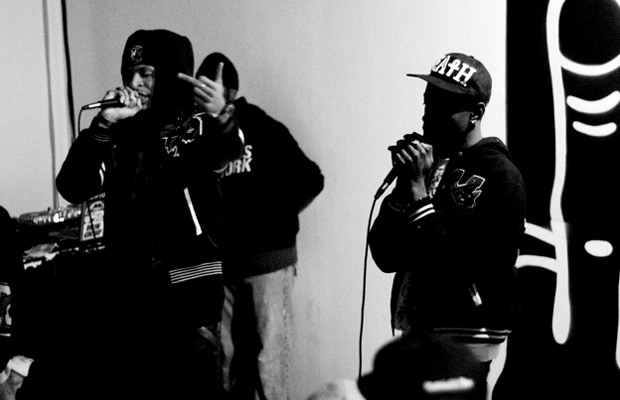 "My friend Jacob that I knew from my block, he just brought Dash to my house one day to smoke some pot, and we talked about psychedelics, and that was it."  – AK.
If you're tired of egoistic hip hop, then The Underachievers got you covered. Their psychedelic infused spiritual content is unique to the hip hop scene.
The Underachievers Music Videos
The Proclamation
They do a great job capturing the visuals you have during a shroom trip.
"So if you come to our neighborhood, everyone's on psychedelics. Kids that shoot guns and do goon shit, they're on psychedelics, happy, into spirituality… Kids aren't krilled out on psychedelics everyday. But kids like that psychedelic escape like twice a year. It's fun. Summertime. Once you get people over the hump of like, 'Yo, it's not going to be as crazy as you think it is,' [they love it]." – Issa Dash.
They're not out there telling you to take psychedelics, but to get more in tune with yourself.  Psychedelics help you dig deeper. Gold Soul Theory is a great song with an even better message.
Gold Soul Theory
"But the whole 'Gold Soul Theory' thing is basically detaching yourself from what society told you is the norm or what superficial things we normally might want to be into, and realizing that all you really need is inside of you. Not even just in your brain, but like from love to intelligence to all the natural shit that's there outside for you that you don't have to pay for. Not even just inside of you, but nature and all the other things. You don't really need to be attached to superficial… The 'Gold Soul Theory' is basically saying we've searched all around for enlightenment and everything else and realized that you really don't have to look far. Everything you need was already embedded inside of you. It's just a matter of going inside yourself and finding that."  – Issa Dash
Its not only The Underachievers that are bringing hip hop back – a few groups from Flatbush are also helping; Flatbush Zombies , Joey Bada$$/Pro Era, and others are also sharing a similar message. The Hiero influences are evident throughout their music. And with Hiero being one of their influences, it's no wonder they're on that good hip hop.
Like Water
"Everyone was listening to '90s rap, so I guess I felt obliged to listen it. I got into a little Hieroglyphics, a little Pharcyde, a little Souls of Mischief, and it's funny that they say that's who we remind them of, because the only rap era I stepped into was that one."  – Issa Dash
The Madhi
"Enlighten our generation. That's all we really want to do. Try and get our generation to start thinking differently, and start the shift ourselves with our generation, who already seem like they know what's going on. I meet people ages 10 to 40, and they're not really attached to religion or attached to anything, and I realize that our generation is already in tune to what we have to tell them. Our job is already done. I don't really have to convince people that there's a third eye. The general consensus is that there's some spiritual world now, there is spirituality, people just don't know where to start." Issa Dash
Head over to complex for the full interview.