Stephen Colbert documented Colorado's booming cannabis industry in a hilarious segment on "Ganjapreneurs," as the news media has termed the people making cash from marijuana.
Colorado–or "potsylvania," as Colbert put it–has made $14 million in the first month that pot became legal in the state and could make up to $600 million a year.
"The market has spoken and the market is toking," Colbert said.  His "bears and balls" segment on pot looked at marijuana infused edibles and the growing ganja tourism industry in the state.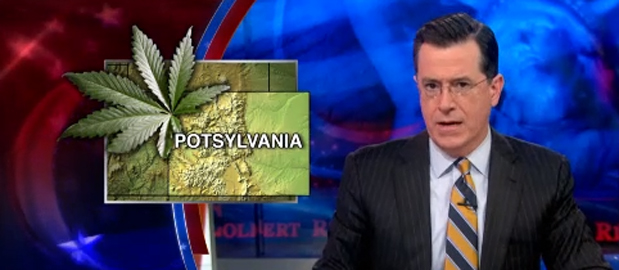 He also mentioned how pot profiteers are having a tough time with finding banks to take their cash. For some reason, Colbert noted, banks are worried about violating the law if they take drug dealers' money. On the other hand, that's exactly what HSBC did when Mexican drug cartels used the banks to launder money–and HSBC got off with no criminal penalties.
> Colbert on Colorado: The Market Has Spoken and the Market Is Toking | AlterNet