We all necessarily have a pinpoint focus on what matters to us in the present, but sometimes it is beneficial to take a step back and marvel at things not yet understood.
It's easy to get lost in the day-to-day grind and forget just how large the universe that we live in is.
Pictures of the Earth from Space give us a view into our world seen through a distant lens. Humbling us to our supposed importance, while simultaneously revealing the undeniable beauty of our Mother Earth.
Tiny Blue Dot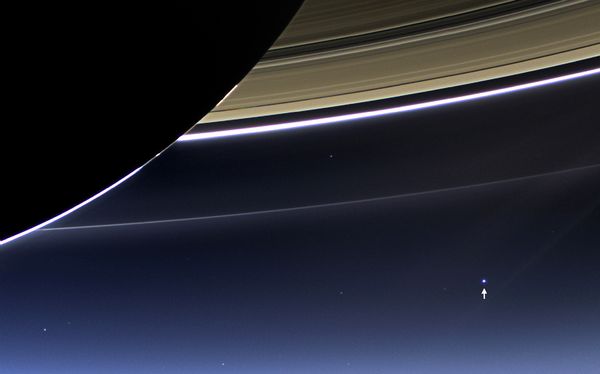 Image courtesy SSI/Caltech/NASA
On July 19, NASA's robotic probe turned its gaze toward Saturn's majestic rings and a tiny pale-blue dot—a planet called Earth nearly 900 million miles (1.5 billion kilometers) away.
The Cassini orbiter snapped this historic image of its distant home world while on the far side of the giant ringed planet.
No surface features are visible since Earth takes up only a scant few pixels—however, its unique blue tinge caused by sunlight reflecting off our planet's oceans clearly shines through.
Tiny Speck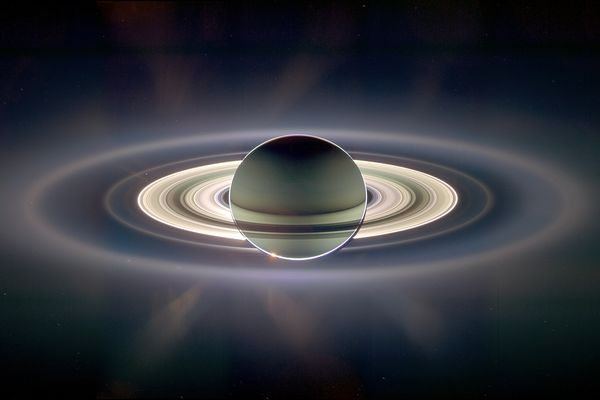 Image courtesy SSI/NASA
Swinging onto the night side of Saturn in 2006, the Cassini spacecraft snapped this stunning back-lit view of the gas giant's rings along with Earth—a tiny speck of light nearly lost just above and to the left of the bright main rings.
This panoramic view of the Saturn system with the Earth represents only the second time our planet has been photographed from deep space.
Back in 1990 the Voyager probe heading out of the solar system snapped the first view of our water-rich world looking like a pale-blue dot from a distance of four billion miles.
Space Beacon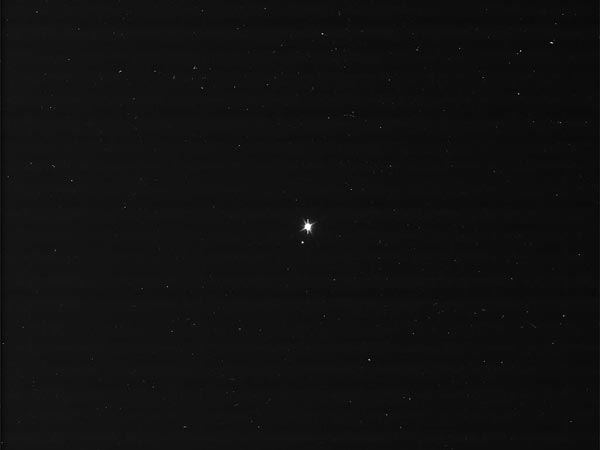 Image courtesy SSI/Caltech/NASA
Earth shines like a bright starlike beacon at the center of this image, with the moon just underneath.
This raw snapshot taken on July 19 by Cassini spacecraft's narrow-angle camera shows that from a distance of 898,410,414 miles (1,445,851,410 kilometers), Earth looks like nothing more than a bright stellar object floating among a backdrop of fainter stars.
Earth From Mars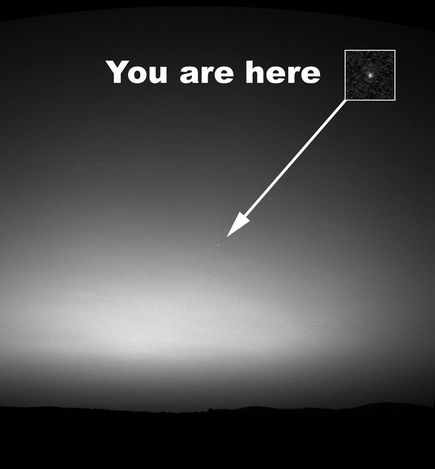 Image courtesy Texas A&M/Cornell/NASA
Earth appears as a tiny speck caught up in a Martian sunrise in the first photo of its kind taken from the surface of another planet beyond the moon.
This historic image was captured by the Mars rover Spirit in 2004. Another rover named Mars Pathfinder tried to take a similar photo of Earth in 1997, but its view was obstructed by clouds.
Earth Rising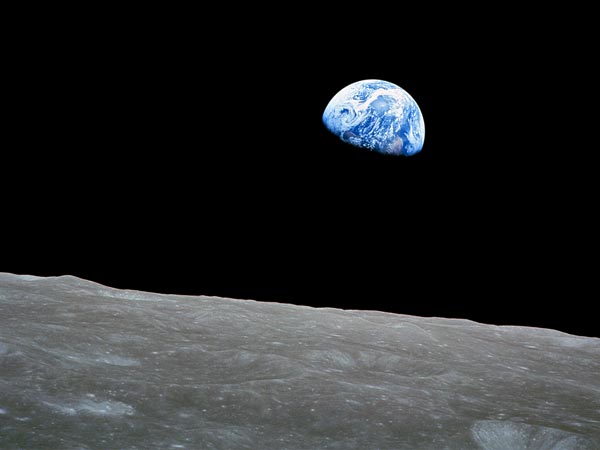 Photograph courtesy NASA
Like a cosmic blue marble, Earth appears to hang in the space above the lunar surface in this historic portrait taken by Apollo 8 astronaut Bill Anders in December 1968. Before this mission, no person had ever seen or photographed Earth from deep space, and this famous "Earthrise" view helped inspire an entire generation of environmentalists.
Earth in Detail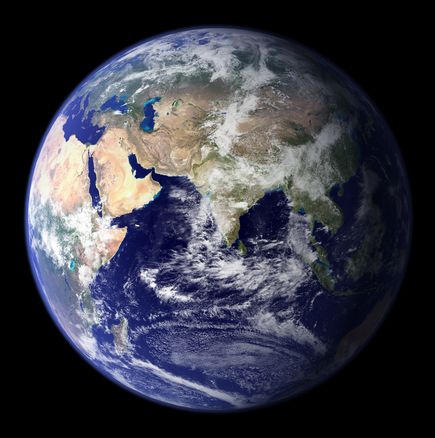 Image courtesy MODIS/USGS/NASA
This classic blue marble view of Earth represents the most detailed true-color image of our entire planet to date.
Most of the images were seamlessly stitched together to create this mosaic view—snapped by NASA's Terra environmental satellite from 435 miles (700 kilometers) above.
Light Show
Image courtesy NASA
What look like sparkling jewels scattered across the night side of Earth are in fact the telltale signs of the expansion of people worldwide. The light pollution from cities and towns, mostly across darkened North America and Europe, dominate this satellite image.
This global view of Earth's night lights was acquired by the Suomi National Polar-orbiting Partnership (Suomi NPP) satellite over 21 days in 2012, taking 312 orbits and collecting 2.5 terabytes of data to cover the entire surface of Earth.
> Stunning Pictures | National Geographic