Weed makes everything better including catching touchdowns passes, submitting opponents, and winning gold medals. Cannabis is the best option for athletes who want to rest and recover, eventually you're going to see team doctors carry ounces of herb with them on team flights. Here is our list of top ten stoner athletes who represent for their favorite plant.
10. Rasheed Wallace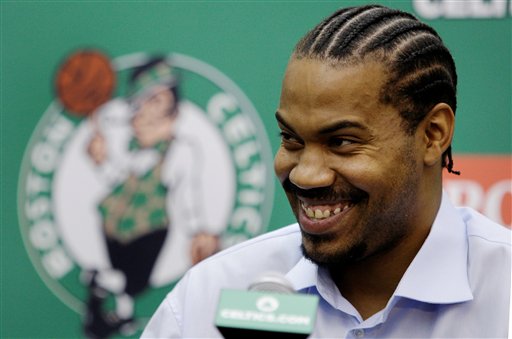 Sport (Years Played): Basketball (1993-2010)
Accolades: 2004 NBA Champion, 4x NBA All-Star
Famous for holding the NBA single-season record for technical fouls (he committed 41 in 2000-01), 'Sheed is less well known for being one of the savvier players during his 15-year career (flipping the script on the laid back but dumb pothead stereotype). He was arrested with fellow Blazer Damon Stoudamire and charged with weed possession in 2002.
9. Mark Stepnoski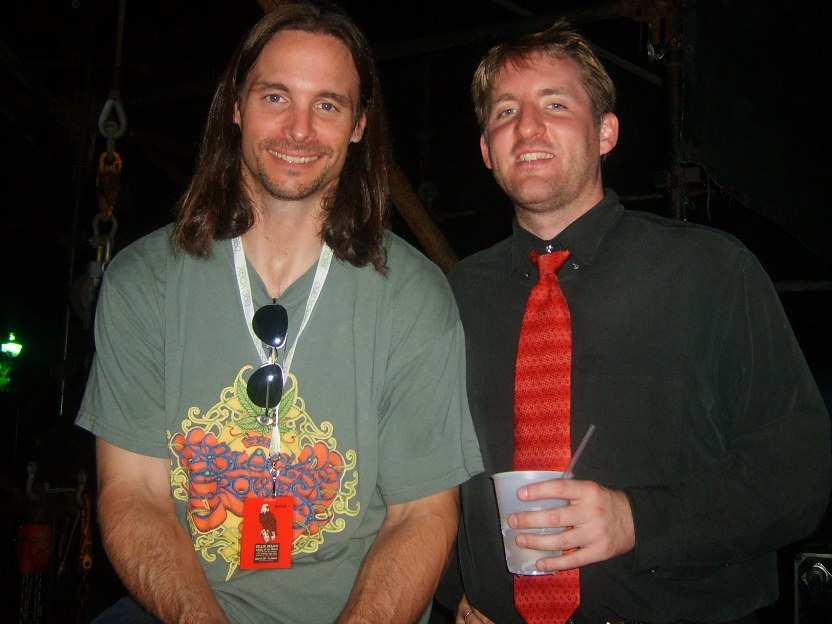 Sport (Years Played): Football (1986-2001)
Accolades: 2x Super Bowl Champion (1993 and 1996), 4x Pro Bowl (1992-1996), named to the NFL 1990s All-Decade team
You've got some smokers who only feel motivated to hit up their weed man to re-up and then you have others who are really all about the movement. Mark Stepnoski is a member of the latter group. After his football career, which included a couple Super Bowl rings with the Cowboys, Stepnoski has put his focus on advocating the legalization of marijuana. He's a member of NORML (National Organization for the Reform of Marijuana Laws), Stepnoski's public support of the group led his alma mater—a Catholic high school—to rescind his nomination for their hall of fame despite Mark's success on the field. Eh, their loss.
8. Rob Van dam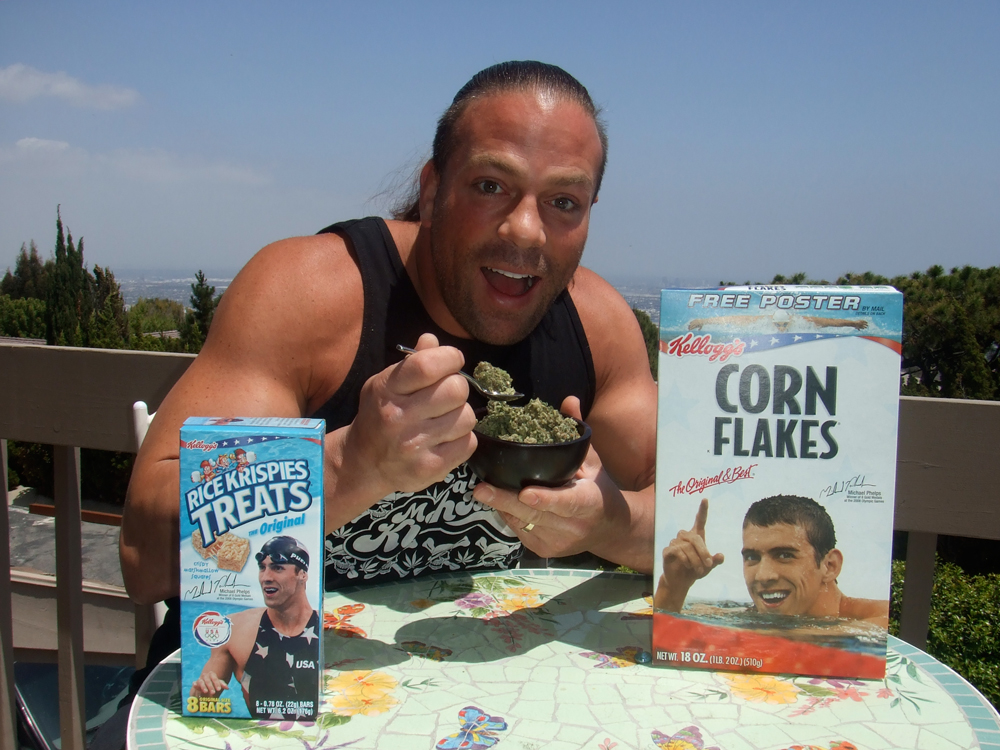 Sport (Years Played): Pro Wrestling (1990-present)
Accolades: 2x ECW World Tag Team Champion, WWE Heavyweight Champion
Rob Van Dam has amazed wrestling audiences around the world with his aerial athleticism and martial arts skills. Throughout his wrestling career, Rob Van Dam rarely hesitated to voice his affection for cannabis — coining the popular catch-phrase, "Nobody gets higher than Rob Van Dam". RVD was stripped of his WWE World title following his arrest for minor marijuana possession. RVD is open about his marijuana use and the need to reform America's cannabis laws, frequently discussing the issue on his live radio show.
Our federal government prohibited this organic plant based on lies, continues to classify it among the most dangerous drugs to validate billions in funding pointless agendas, and denies it's medical value, causing countless lives to suffer needlessly. How can anyone not care?
7. Dock Ellis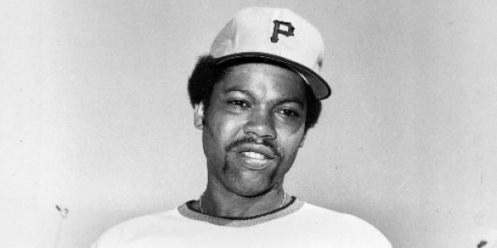 Sport (Years Played): Baseball (1968-1979)
Accolades: 1971 All-Star team, 1971 World Series champion, 1976 A.L. Comeback Player of the Year, No-Hitter thrown on 6/12/1970
Dock Ellis is most famous for having thrown a no-hitter while high on LSD, but he was an all-around badass baseball player, who famously did not take shit from anyone (he once intentionally hit three of the first five batters in a game).
6. Tim Lincecum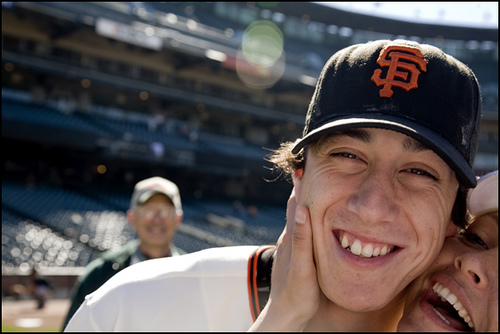 Sport (Years Played): Baseball (2004-present)
Accolades: 2x NL Cy Young Award winner, 2010 World Series Champion, 4x All-Star
If the National Organization for the Reform of Marijuana Laws (NORML) ever starts a PETA-style celebrity campaign, Tim Lincecum would be a perfect pitchman. He looks like a stoner, talks like a stoner, has a stoner nickname ("The Freak"), and, judging by the misdemeanor pot charge he picked up in November 2009, probably is a stoner. And he's really, really, really good at what he does. In his first four full seasons in the majors, Lincecum's logged more than 200 innings each year, and led the National League in strikeouts three times. He's done it all with a frame many scouts considered too small for a power pitcher, and with an unorthodox delivery that many of those same scouts thought would lead to injury. Think an occasional puff has anything to do with his prowess?
5. Nick Diaz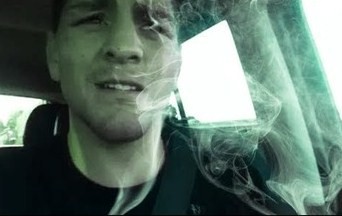 Sport (Years Played): MMA (2001-present)
Accolades: 27-7; Former Strikeforce Welterweight Champion
If there's one group of athletes who deserve a pass when it comes to a little recreational toking, it's gotta be MMA fighters. These dudes are subjected to some of the most brutal indignities in organized sports, and yet they're not allowed to get high now and again? One of MMA's respected and rising stars, Nick Diaz is known as Captain Cannabis and beloved by members of the MMA stoner community like Joe Rogan.
4. Ricky Williams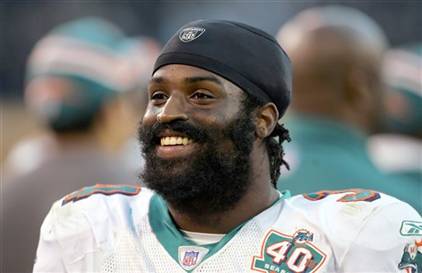 Sport (Years Played): Football (1995-2011)
Accolades: 1998 Heisman Trophy, 2002 1st team All Pro, 2002 Pro Bowl MVP, 10,000 Rushing Yards Club member
Football x marijuana = Ricky Williams. No other athlete has ever received as much coverage and created as much controversy for their marijuana use as the stoner NFL running back. Ricky's love of the ganja led to his first retirement in August of 2004. This decision came as Williams had already reportedly failed three drug tests and was facing a one-year ban from the NFL. While away from the league, he studied holistic medicine at the California College of Ayurveda that fall in Grass Valley, Calif and openly used marijuana saying it was a form of psychotherapy treatment for his social anxiety disorder.
3. Arnold Schwarzenegger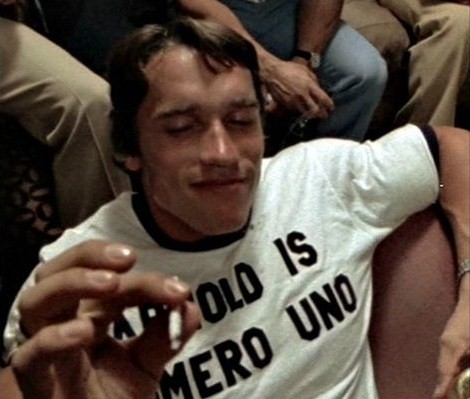 Sport (Years Played): Bodybuilding (1968-1980)
Accolades: 1968 Mr. Universe, 7x Mr. Olympia (1970-1975, 1980)
The same man with one of the craziest life stories ever (bodybuilder/actor/governor) has also been one of the biggest influences on the marijuana movement in this country. Aside from lighting up back in his younger days, Schwarzenegger changed the whole game in 2011 when, while serving as California governor, he reduced the charge for carrying an ounce or less of marijuana to an infraction rather than a misdemeanor. Meaning people found with that amount would only face a fine of $100 and would not have the offense appear on their criminal record.
2. Randy Moss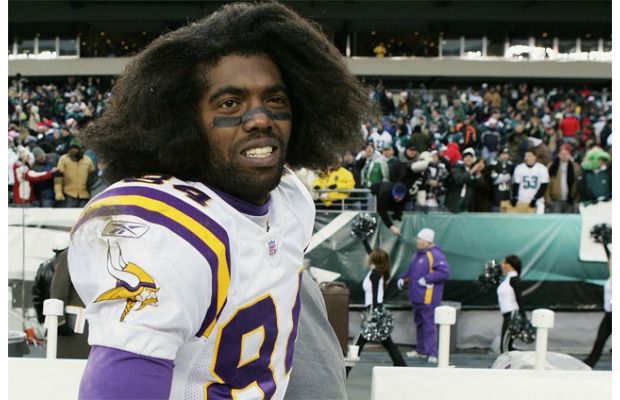 Sport (Years Played): Football (1996-present)
Accolades: 1998 Offensive Rookie of the Year, 7x Pro Bowler, Record for most TDs in a season (23), Fifth on the All-Time TD list (154) and All-Time Receiving Yards list (14,858)
Randy Moss was the cool stoner version of T.O. and Chad Ochochinco before those guys were making headlines for their antics. Back in '96, before reporting to jail to serve a 30-day sentence for a battery conviction, Moss lit up an L and later tested positive for THC during his bid. As a result, his sentence was extended by 60 days, Florida State revoked Moss' scholarship, and he was subsequently dismissed from the university. Moss had another positive test—administered by the NFL—in 2001 but he passed on the other tests throughout his career despite admitting to using the drug in a 2005 interview with Bryant Gumbel.
1. Michael Phelps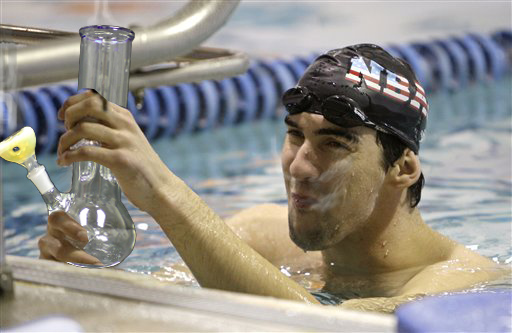 Sport (Years Played): Swimming (2002-present)
Accolades: 22 Olympic medals including 18 gold
Ahh, the most infamous bong rip in sports history. After becoming a media sensation by winning a record eight gold medals at the 2008 Summer Olympics in Beijing, Phelps was seen as an American hero who could pretty much do no wrong. Well, right until a photo of him using a bong at a University of South Carolina house party was released by the British tabloid News of the World in January 2009. As a result, Phelps received a three-month suspension from USA Swimming and Kellogg's said they would not renew their endorsement of the Olympian. Bad move by Kellogg, Joe Rogan and other stoners love cereal.
> The 25 Greatest Stoner Athletes of All Time | Complex