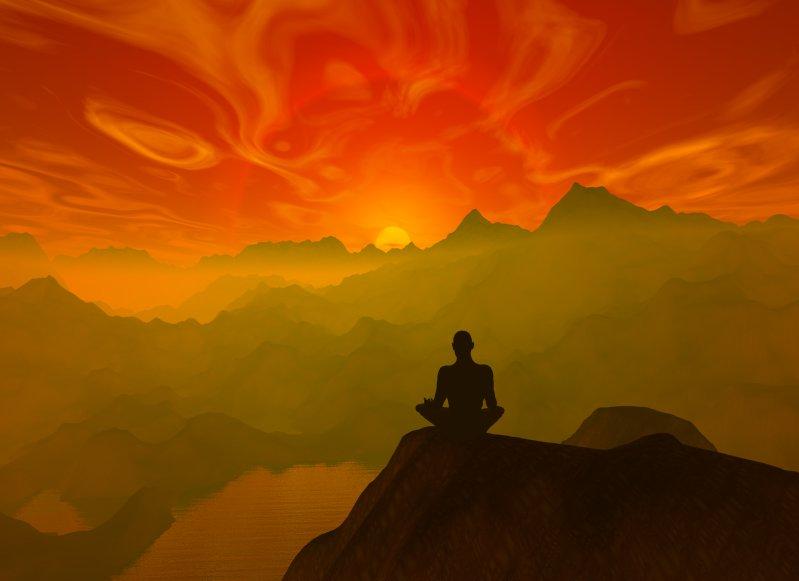 More than half a century ago, author Aldous Huxley titled his book on his experience with hallucinogens The Doors of Perception, borrowing a phrase from a 1790 William Blake poem (which also lent Jim Morrison's band its moniker).
If the doors of perception were cleansed, everything would appear to man as it is, infinite. For man has closed himself up, till he sees all things through narrow chinks of his cavern.
Based on this idea, Huxley proposed that ordinary consciousness represents only a fraction of what the mind can take in. In order to keep us focused on survival, Huxley claimed, the brain must act as a "reducing valve" on the flood of potentially overwhelming sights, sounds and sensations. What remains, Huxley wrote, is a "measly trickle of the kind of consciousness" necessary to "help us to stay alive."
New research bolsters the idea of "psychedelic" as an accurate label for these drugs. The word was originally coined by Huxley, from the Greek "psyche" for mind or soul and "delos" for manifest. A growing body of literature suggests that these drugs can indeed help scientists understand the workings of the mind and brain, by revealing some of the underpinnings of consciousness.
The Science Behind Magic Mushrooms' Effect on the Brain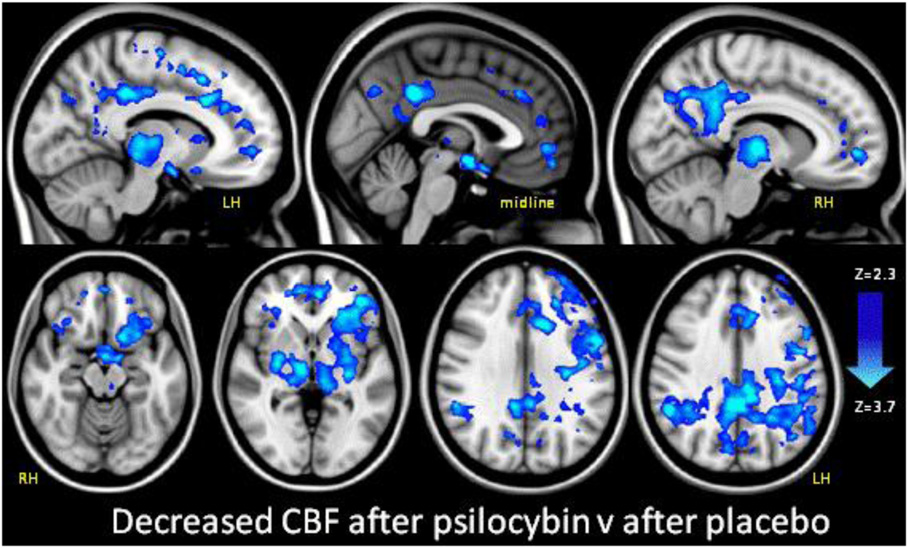 A new study on psilocybin by British researchers supports Huxley's theory. It shows for the first time how psilocybin — the drug contained in magic mushrooms — affects the connectivity of the brain. Researchers found that the psychedelic chemical, which is known to trigger feelings of oneness with the universe does not work by ramping up the brain's activity as they'd expected. Instead, it reduces it.
Under the influence of mushrooms, overall brain activity drops, particularly in certain regions that are densely connected to sensory areas of the brain. When functioning normally, these connective "hubs" appear to help constrain the way we see, hear and experience the world, grounding us in reality. They are also the key nodes of a brain network linked to self-consciousness and depression. Psilocybin cuts activity in these nodes and severs their connection to other brain areas, allowing the senses to run free.
Two regions that showed the greatest decline in activity were the medial prefrontal cortex (mPFC) and the posterior cingulate cortex (PCC).
The mPFC is an area that, when dysfunctional, is linked with rumination and obsessive thinking. "Probably the most reliable finding in depression is that the mPFC is overactive," says Carhart-Harris. "That's a strong indication of the potential of psilocybin as a treatment for depression."
The PCC is thought to play a key role in consciousness and self-identity. "The most intriguing aspect was that the decreases in activity were in specific regions that belong to a network in the brain known as the default network," notes Carhart-Harris. "There's a lot of evidence that it's associated with our sense of self — our ego or personality, who we are."
"What's often said about psychedelic experience is that people experience a temporary dissolution of their ego or sense of being an independent agent with a particular personality," he says. "Something seems to happen where the sense of self dissolves, and that overlaps with ideas in Eastern philosophy and Buddhism." This sense of being at one with the universe, losing one's "selfish" sense and vantage point, and feeling the connectedness of all beings often brings profound peace.
Carhart-Harris and his colleagues did find support for claims made by sufferers of painful cluster headaches that psilocybin reduces the frequency of their attacks. These headaches are known to involve overactivity of a brain area called the hypothalamus, and psilocybin calmed this region.
> Magic Mushrooms Expand the Mind By Dampening Brain Activity | Time Magazine